One night last June, Liliya Aleksandrova slipped out of her home in occupied Kherson with some bright paints and a dangerous idea. She went to a grocery shop in her neighborhood, a business that she knew was frequented by Russian soldiers who had invaded the city months before. "Kherson is Ukraine," she wrote on a metal fence near the shop. Then she added a golden swirl of paint – a yellow ribbon, the symbol of Ukraine's resistance movement in the Russian-occupied territories.
"For sure it was scary, but she asked God to help her," recounts an interpreter, who was summarizing Aleksandrova's account to the Guardian.
At the time of her midsummer protest, the Russians were everywhere. People could be searched at checkpoints, sometimes forced to undress. Some simply disappeared. But Aleksandrova thought the risk was worth it. It was her idea to show she doesn't accept 'ruscism', she doesn't accept Russia being on this land," said the interpreter, using the compound of "Russian" and "fascism" widely used in Ukraine to describe the occupying forces. Aleksandrova, speaking from Kherson over a fuzzy Zoom screen, held aloft a picture of her grandfather, who fought in the second world war. He also "did … not accept the occupiers at that time", the interpreter added.
Aleksandrova could speak openly of her numerous acts of protest because Kherson was freed by Ukrainian forces in November after more than eight months of Russian occupation. After the liberation, Ukrainian investigators discovered alleged "torture rooms" where dozens of men were said to have been beaten, electrocuted and sometimes killed. "There were moments when she felt real fear because Russians were going by in their cars, they were going by in the streets and there was a constant threat of being noticed, of being exposed," the interpreter said.
Now the fence panel she graffitied has gone to Brussels, where it was one of the main objects at a two-day exhibition last week dedicated to the Yellow Ribbon resistance, an independent, non-violent grassroots movement.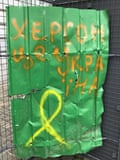 Organized by the Yellow Ribbon movement with support from a Ukrainian NGO and PR firm, the exhibition took place outside the European parliament, with the aim of showing European decision-makers the reality of life under Russian occupation.
The green fence panel is battered and pock-marked by bullets – traces of Russian attacks, Alexandrova said. "She wanted this to be also a memory and a symbol of how Russians were destroying Kherson," her interpreter said.
According to Ukraine's government, more than 100,000 sq km (38,600 sq miles) of the country are under occupation by Russia. That is 1,877 cities, towns and villages.
"Unfortunately, this number often remains abstract to foreigners," said Ukraine's ambassador to the EU, Vsevolod Chentsov. "Thousands of brave people are fighting against the huge ideological bubble in which Russian propaganda is investing millions."
One person is Ivan, a Yellow Ribbon co-founder, who lives in occupied Melitopol. Russia tries "to create an informational vacuum where they are telling you that 'there is no Ukraine', 'Ukraine left you', 'your city is Russian', 'Russia is here forever,'" he said. Ivan is not his real name and he wore a mask throughout the conversation that partly obscured his face.
Acts of resistance, such as painting a yellow ribbon on a fence, "show that Ukraine is still independent, it will liberate you sometime soon – please do not take a Russian passport," he said.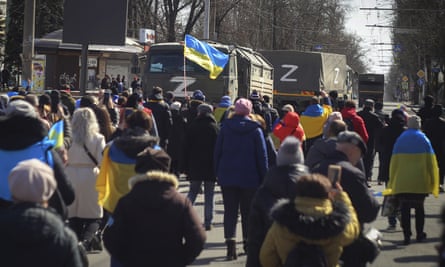 The movement started in Kherson, the first major city to fall under Russian occupation. Pro-Ukraine demonstrations spring up immediately. But on April 27, 2022, when about 500 people gathered for a protest, Russian troops used tear gas and stun grenades to break up the peaceful demonstration. Activists, such as Aleksandrova, were undeterred, but realized their protest would have to go underground.
To show resistance, they tied yellow ribbons to fences, or projected the initials of the Armed Forces of Ukraine (ЗСУ) onto public buildings used by Russian forces or pro-Russian administrators. They put up posters with QR codes informing people how to avoid getting a Russian passport and avert sending their children to schools controlled by the Russian state.
The movement spread to other occupied territories. The Ukrainian letter "Ï" – which does not feature in the Russian alphabet and is essential for the Ukrainian spelling of Ukraine – appeared on posters, walls and fences. When local authorities sought to ban the sale of blue and yellow paint, activists resorted to tearing up scraps of old clothes to make yellow ribbons. More recently activists have turned the Russian "Z" symbol into an hourglass in Ukrainian colours. The message is simple: Russia's time on Ukraine's territory is running out.
The Yellow Ribbon movement claims that 8,000 people in the occupied territories are using its chatbot, which sends out instructions on different protests. People are asked to upload photos and videos of their actions, so organizers know they are active. The chatbot is intended to preserve everyone's anonymity.
"Sometimes it is hard to trust because you know anyone could just tell the Russians you are a local partisan and it would be really hard for your family," Ivan said.
Denial of responsibility!
WebSalesPromotion.com is an automatic aggregator of the all world's media. In each content, the hyperlink to the primary source is specified. All trademarks belong to their rightful owners, all materials to their authors. If you are the owner of the content and do not want us to publish your materials, please contact us by email –
info@websalespromotion.com
. The content will be deleted within 24 hours.